Five Finalists of BIO Startup Program are Ready for Global Contacts
25.04.2019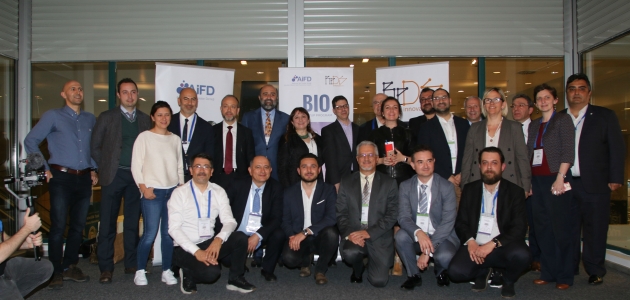 Out of 65 bioentrepreneurs the final five are selected in the fourth BIO Startup Program supported by AIFD (Association of Research-Based Pharmaceutical Companies) and carried out by ReDis Innovation. Having attended a three-day camp after online program, the bioentrepreneurs made their presentations before the judges as a part of TÜSEB's (Health Institutes of Turkey) symposium "To a Strong Bioeconomy: Priorities and Collaborations in Biotechnology" at BIOExpo in April 19. At Demo Day organized at Lütfi Kırdar Congress Centre, the five bioentrepreneurs will attend BIO Entrepreneurship Bootcamp and BIO Convention in Philadelphia between June 1-6.
Finalists of Turkey's first and only biotechnology themed accelerator program BIO Startup, organized in collaboration with AIFD and ReDis Innovation are selected. Entrepreneurs who completed online training and mentorship process, attended Bioentrepreneurship Camp in Istanbul and received training and mentorship from expert instructors and prominent professionals from the industry between April 17-19. Startups who attended the camp also had the opportunity to contact with AIFD member global companies' representatives and benefited from their experiences.
The first day of the camp was held at ITU Magnet, the second day at AIFD office and the third day at BIOExpo as a part of TUSEB's "To a Strong Bioeconomy: Priorities and Collaborations in Biotechnology" symposium. At the afternoon of April 19, 5 bioentrepreneurs selected from 11 bioentrepreneurs earned the opportunity to attend world's most important biotechnology organization, BIO Convention.
Entrepreneurs are Ready for Global Contact thanks to the Accelerator Program
AIFD Investment Policies and Corporate Communication Director Cengiz Aydın, who said that BIO Startup Program has an important position in life sciences, innovation and Research and Development's future, mentioned that startups were trained in various fields such as marketing, licensing, regulations: "Startups faced many innovations on their fields with this program and learned to look from different points of views to their initiatives, started to become specialized and work to complete their deficiencies. Attending BIO Convention alone is a big advantage, but thanks to our USA training added this year, our startups are well-prepared for it. They know the environment they will meet and what the international buyers want and expect from them. As for the program's focus on life sciences, it offers unique opportunities to make global contacts at a wide range. We, as AIFD, bring together our member companies with them and make sure they meet the right people as much as possible."
Finalists will seek support in USA
Last step of BIO Startup Program is to attend world's biggest biotechnology organization BIO Convention, and BIO Entrepreneurship Boot Camp within it in Philadelphia. Selected bioentrepreneurs will come together with different actors of international ecosystem, such as investors, global companies, incubation centers. ReDis Innovation's founder Selin Arslanhan commented on the importance of BIO Convention for startups: "Selected bioentrepreneurs will have the opportunity to contact with professionals, investors, corporate companies and potential clients, along with coming together with startups like themselves. BIO Convention offers an important opportunity to contact with different actors of ecosystem and make one to one meetings for collaborations."
Selin Arslanhan, who told that they receive more and more qualified applications each year, drew attention to the technologies focused by the 11 startups: "The bioentrepreneurs, who participated in the BIO Startup Program, focus on the areas that are prominent in the world. It is pleasing to see Turkey follows the world's agenda."
BIO Startup 2019 Finalists
VacciZone Biotech, a patented startup company in four international markets, is developing a national and domestic anti-cancer immune therapy. One of the developers of the Project, Dr. Nesrin Özören commented on the importance of BIO Startup Program: "Getting accepted to the Bio Startup Program as the startup company VacciZone Biotech, was a big chance for us. We hope to accelerate this project, developed with master students, with USA program."
VacciZone General Director Dr. İbrahim Gökçe Yayla said, "We are working on a project to develop medicine for cancer. Immunotherapy, which has created a breakthrough in cancer treatment, arouses the immune system against cancer and enables the body to clean itself from cancerous cells. Immunotherapy requires support treatments and VacciZone does this. We support immunotherapy with triggering biological paths."
Vagustim: They stimulate vagus nerve in the ear electrically and prevents migraine attacks from happening with regulating the neural system. Co-founder of the company Ali Can Erk, commented on the importance of the program: "We are very excited for the BIO Convention and international cooperations. This process will be a great opportunity for us to start FDA processes."
Pera Labs: Using artificial intelligence without damaging the sperm cell, it selects healthy sperm cells, analyze the quality of the DNA with image processing algorithms and deep learning models. Pera Lab's founder Burak Özkösem commented on being selected as one of the five finalists: "It is very exciting to meet investors and potential partners. We are ready for our meetings thanks to the training and mentorship process."
Tarabios: They develop a platform that measures the clotting time. Hasan Ürey, who carries out business development activities, summarized their first goal as 'to make strategic cooperation with pharmaceutical companies', since their products are also used in drug development and patient follow-up. Tarabios Research and Development Coordinator Gökhan Sağlam said: "Our Project gained speed, we made measurements with real blood datas and our results are very successful. We are in search of investment and know-how to prepare and develop the product."
ELAA Teknoloji: They developed an algorithm for the 3-D Lung Navigation System for early diagnosis of lung cancer. It aims to reach the desired area and conduct a biopsy on this area with a 98% success with adding an algorithm, which will lead the doctor, to bronchoscopy devices we use today. Founder Partner of ELAA Teknoloji Prof. Dr. Tunç Laçin shared his opinions after BIO Startup Program: "The purpose of our application to the program is to see and search where our prototype would reach and with which companies we can collaborate with at BIO Convention. We are grateful to AIFD for their support in terms of investment opportunities. We believe collaborations, consensuses and project partnerships will be important. We, as a Turkish brand, aim to show such company can expand abroad for exportation."
BIO Startup Program 2019 Participants
1. Yesil Science: With their Augmentify® product, they bring digital innovation to leaflets with AR technology and transforms marketing in medicine promotions.
2. Vitriol: They design a digital micro-needle platform for testing the medicine.
3. Mikro Biyosistemler: They design a micro-fluid platform for detection and counting of cancerous cells in blood.
4. Buka Medical: An initiative of herbal antibacterial wound cover.
5. Umayana Biyoteknoloji: They develop products formulized with high technology to prevent the wounds caused by cancer treatment in the skin and oral care.
6. AIVISIONTECH: Produces AI solutions in health sector.