Healthcare Ecosystem Stakeholders Discuss Future of Innovative Medicines at Innovative Medicines Symposium
20.01.2023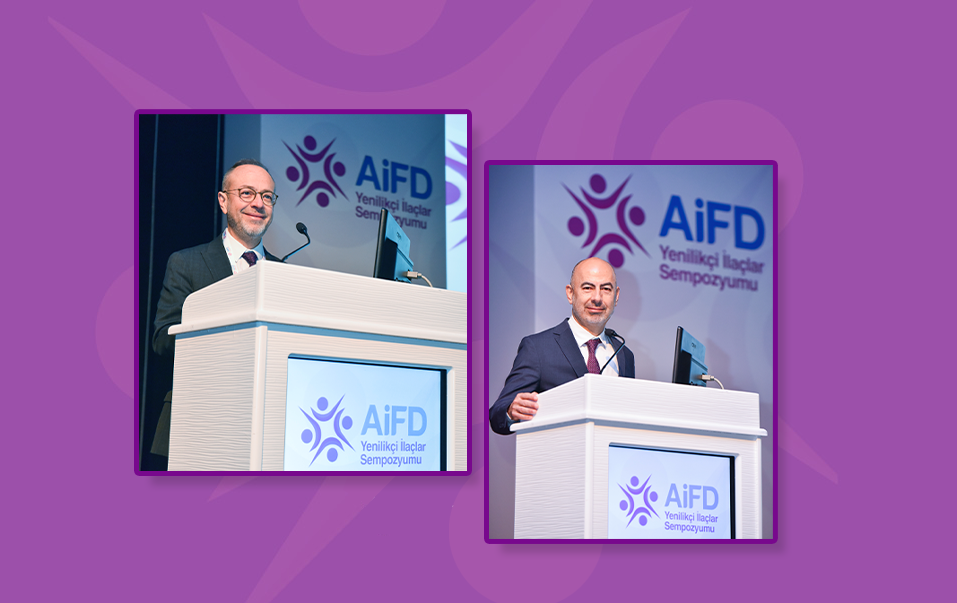 Association of Research-Based Pharmaceutical Companies (AIFD) organized a Symposium on Innovative Medicines on Wednesday, December 07th, at Sıhhiye Campus of Hacettepe University. The symposium, held for the first time this year by AIFD and intended to be organized on a regular basis in the years ahead, brought together physician unions, patient organizations, academic associations, scientists, representatives of public agencies and participants from the healthcare industry. The symposium provided a forum for multifaceted discussions of innovative medicines and securing -a healthier future for the society, underlining collaboration of stakeholders as key to developing effective solutions to healthcare needs.
Established nearly 20 years ago by research-based pharmaceutical companies operating in Türkiye to help develop domestic solutions to healthcare needs and improve access to innovative medicines and therapies in the country, the Association of Research-Based Pharmaceutical Companies (AIFD) held a "Symposium on Innovative Medicines," providing a forum for discussing various aspects of innovative medicines which play a key role in encountering diseases. The symposium took place on Wednesday, December 07 at Sıhhiye Campus of Hacettepe University with broad participation by healthcare stakeholders, and covered discussions of topics related to the future of innovative medicines and therapies, by academics and professionals with expertise in their respective fields, highlighting the importance of stakeholders' collaboration and adopting a patient-centered approach for improving public health.
Ateş Kara, President of Turkish Vaccine Institute, TÜSEB, delivered the keynote speech for the event, emphasizing the value of a collaborative effort by all stakeholders, as depicted in the event logo.  Prof. Dr. Serhat Ünal, Deputy Rector Hacettepe University, said it was a pleasure for the institution he represents to host the event, and added "Medicine is constantly evolving thanks to innovation, and no other field can befit innovation better than medicine. Not only public authorities and the industry, but all of us, including universities and non-governmental organizations, must act together to improve access to medicines which prolong and enhance quality of life for people. I deeply appreciate AIFD for their valuable leadership in fostering a conducive environment for innovation through this event." Sevil Azak Sungur, Vice-President for Inspection Services, TİTCK, said they remain committed to achieving their aspiration of transforming TİTCK as "a prominent and reference agency globally" and pointed to their collaboration, as a supervisory and regulatory agency, with other international agencies as being crucial to enhancing international recognition and advancing, thereby, the quality of the entire industry. She said they were working hard as an agency to expand – following PIC/S and ICH memberships – their portfolio of international partnerships, including their commitment to becoming a listed authority by the World Health Organization, covering all of TİTCK's operations in vaccines and pharmaceuticals, and expressed her gratitude to all stakeholders who attended the event.
"A well-functioning ecosystem for healthcare innovation can enhance access to innovative treatments"
Dr. Ümit Dereli, Secretary General AIFD, discussed the importance of innovative medicines and Turkey's consolidating its position in the global pharmaceutical value chain: "At AIFD, our primary goal since day one has been to secure rapid and convenient access to innovative medicines and therapies for patients in Türkiye, as is the case in advanced healthcare systems in the developed world. In this premise, we remain committed to working and finding ways to grow the number of clinical trials conducted in Türkiye and improve access to innovative medicines in the country, while continuing to emphasize the importance of innovative medicines for public health. Innovative medicines, developed through a lengthy process of R&D involving extensive clinical trials and use of advanced technologies, offer hope for treatment of fatal and chronic illnesses, and medical conditions for which a viable cure is not yet available. Today, the average life expectancy has reached 80 years, from 45 years in the early 1900s, thanks to the impact of innovative therapies.[1] We managed to overcome many debilitating diseases and conditions thought to be impossible-to-treat at the time, thanks to innovative treatments; but the fight is not yet over. Today, research efforts are underway around the world for over 8000 innovative medicines currently in development[2], laying the foundations for a healthier future for all of us with longer life expectancies thanks to scientists who are working on developing innovative treatments. Discovery of innovative medicines, which have immense public health value, and bringing them to those in need as approved treatments also have significant impact on the economy. At the Association of Research-Based Pharmaceutical Companies, we uphold our mission of acting as a solution partner for the national healthcare industry in not only expanding access to innovative medicines but also overcoming various healthcare challenges; and in recognizing our role as a catalyzer for the ecosystem, we drive interaction and maintain our position as a unifying-factor to strengthen the healthcare ecosystem, beyond the pharmaceutical industry in Türkiye. In this premise, we believe in a holistic approach that reaffirms the standards of developed markets in fundamental regulatory aspects, including approval, pricing, reimbursement and intellectual property rights, for the value chain, comprising R&D, manufacturing and distribution, as key considerations for improving global competitiveness of our national pharmaceutical industry and ultimately improving public health. We emphasize the value of collaboration between healthcare stakeholders and the pharmaceutical industry which will empower our future, and believe that our Innovative Medicines Symposium, which has seen such broad participation, will drive important conclusions that will help pave the way for our shared future," he said.
Dr. Mete Hüsemoğlu, Chairperson of the Board of Directors AIFD, said all pharmaceutical industry stakeholders were collaborating with a patient focus, and added:  "Ensuring access to newest treatments for patients in Türkiye concurrently with patients elsewhere around the world can only be possible by securing an accomplished ecosystem for healthcare innovation, well-designed drug funding models, empowering patient and physician organizations for greater involvement in decision-making and all industry stakeholders' pursuing collaborations with a focus on the patient. We aim to continue holding this important symposium regularly in the future to advance our goal of building a healthier future in collaboration with public stakeholders, physicians and patient organizations. We remain committed to pursuing solutions by revitalizing the ecosystem which we have built together with our stakeholders and our 38 members, who trust and invest in the potential and future of Türkiye, creating economic value, serving the interests of our people with their global knowledge and experience, and most importantly, improving access to innovative therapies for patients in Türkiye, in order to grow the number of patients who have access to new and original medicines."
Türkiye has the potential to rise to the level of developed countries in access rates to innovative therapies
Hüsemoğlu underlined the contribution of innovation in healthcare, innovative medicines and the entrepreneurial ecosystem to growth and employment in Türkiye: "Scientists around the world continue their innovative work for developing thousands of innovative therapies. Pharmaceutical companies who lead in bringing new innovative medicines for the healthcare sector allocate an average of 21.6 percent of their sales back to R&D, which positions the pharmaceutical industry as the top investor in R&D across industries.[3] Today, approximately USD 212 billion is invested globally in pharmaceutical R&D, which is projected to grow to around USD 254 billion by 2026.[4] Pharmaceutical companies spend a majority of their investment dollars in clinical trials to discover new medicines. In Türkiye, R&D investments in pharmaceuticals rose from USD 86 million in 2017[5] to nearly USD 325 million in 2020, thanks to 632 clinical trials currently underway in Türkiye, where our members account for almost all of industry-sponsored clinical trials. Moreover, according to the W.A.I.T. survey by EFPIA and IQVIA, which gauges the level of patient access to innovative therapies across countries, the access rate to 160 innovative medicines in Türkiye covered by the survey was around 15 percent. We are confident that Türkiye will make headway on the access front, growing the access rates to a level on par with developed countries, as we can clearly see in our interactions with our various stakeholders that this potential does exist. We, at the Association of Research-Based Pharmaceutical Companies, continue engaging our stakeholders in powerful partnerships to tap the potential of our country and derive diverse benefits, as we have been doing for the past 20 years," he said.
In appreciation of the 16 highly-distinguished speakers who shared their views at the Innovative Medicines Symposium, AIFD will be offering, through Turkish Education Association (TED), one-year scholarships to 16 pharmacy and medical school students who are the future of our national health industry.
[1] https://www.worldometers.info/demographics/life-expectancy/
[2] PhRMA, [Çevrimiçi]. Available: https://www.phrma.org/science-and-discovery/in-the-pipeline. [Erişildi: 22 11 2022].
[3]  Evaluate Pharma® World Preview 2021, Outlook to 2026, 14th Edition – July 2021
[4] Evaluate Pharma® World Preview 2021, Outlook to 2026, 14th Edition – July 2022, pp 23
[5] https://www.aifd.org.tr/wp-content/uploads/2020/09/turkiye-icin-klinik-arastirma-stratejisinin-faydalari-raporu.pdf ( sayfa 13)