The AIFD-sponsored TEPAV report publicly rolled out
01.12.2017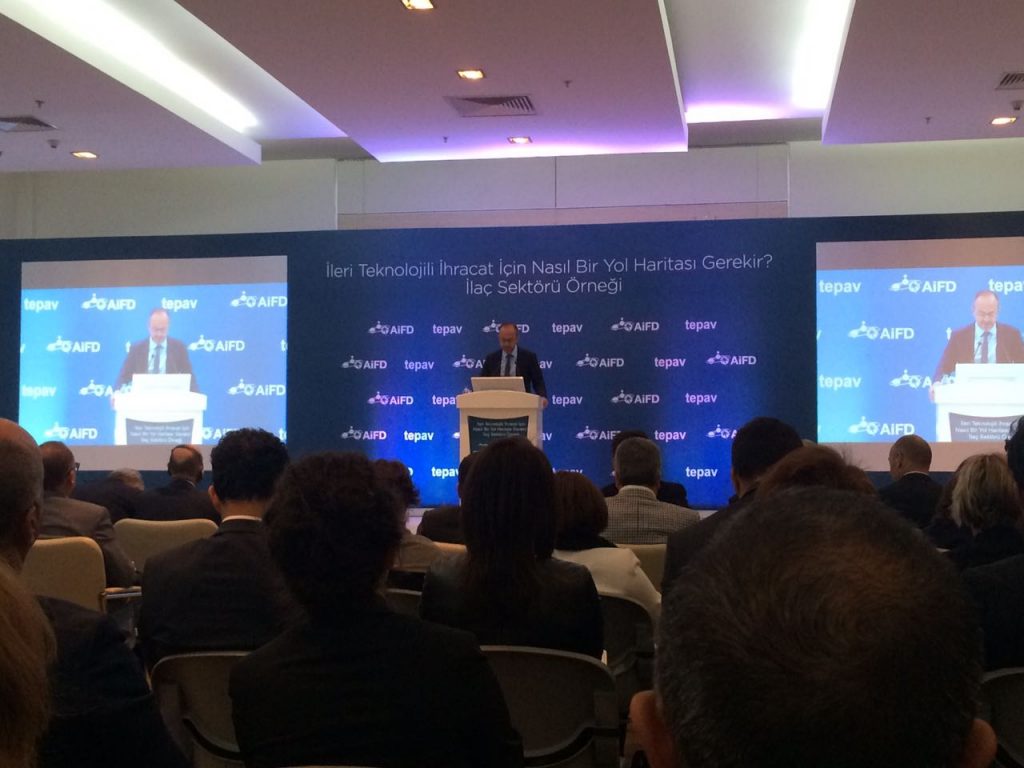 The "Pharmaceutical Manufacturing and Export Ecosystem Report," prepared by TEPAV with support from the AIFD, was publicly rolled out today during a meeting in Ankara. 
A manufacturing and export report and deliverables, prepared by the Economic Policy Research Foundation of Turkey (TEPAV) in collaboration with the Association of Research-Based Pharmaceutical Companies (AIFD) was shared on Monday, September 26, 2016 (today) with all stakeholders during a rollout event in Ankara. The program scrutinized the global competitiveness roadmap of the pharmaceutical industry, which was designated as a strategic industry for Turkey's 2023 goals, and the attendees included TEPAV, AIFD and TOBB officials, industry representatives and foreign investors, as well as representatives of various public agencies and organizations, including the Ministry of Health, the Ministry of Economy, the Ministry of Development, the Ministry of Finance, Social Security Institution (SGK) and TÜBİTAK.
The keynote speeches for the meeting were given by AIFD Chairman of the Board of Directors Dr. Mete Hüsemoğlu and TEPAV Executive Director Güven Sak.
In his speech, Mete Hüsemoğlu underlined the great value that innovative medicines add to the health industry, and said research-based pharmaceutical companies also met on this common denominator. Hüsemoğlu said development of the pharmaceutical industry required indigenous and foreign investment, and that innovative medicines play a key role in achieving longer life expectancy. According to Hüsemoğlu, diabetes-related deaths have decreased by approximately 40 percent in European countries since these medicines were included in therapeutic protocols. "Life expectancy of cancer patients has increased by two years, and innovative medicines had a major role in achieving it. Some diseases have been history thanks to vaccines. Currently there are approximately seven thousand molecules in research and development by different companies in therapy areas such as oncology, cardiovascular disease, and neurology," he said, and added that innovative medicines also contributed to the total healthcare costs by reducing hospitalizations, absenteeism, and risk of complications.
"Total global drug sales has reached a trillion dollars"
Hüsemoğlu said medicines are important not only for public health but also for the economy. Pharmaceuticals have a major share of research and development around the world, Hüsemoğlu said, and added: "The pharmaceutical industry is the top investor in research and development across all sectors in the world. For instance, global pharmaceutical sales total a trillion dollars. The pharmaceutical industry allocates the most funding to research and development. This year, approximately USD 145 billion will be spent on research and development, and it is projected to increase to USD 160 billion by 2020. Only looking at the top 20 most selling drugs in the world, they have a total sales of USD 150 billion. For this reason, pharmaceuticals add value to countries with manufacturing, export and research and development funding." Hüsemoğlu underlined the need for greater focus on pharmaceutical research and development in Turkey, and said "Any steps taken in Turkey for pharmaceuticals must be aimed at the global marketplace, since Turkey accounts for only 7 thousandths of the global market, but there is a trillion dollars market out there." Hüsemoğlu noted that Turkish manufacturing operations must use advanced technology, and said there are some very good manufacturing facilities in Turkey and ways should be devised to manufacturing the top 20 best selling drugs in Turkey. "Also, it is in the best interest of our country to develop policies to support manufacturing in Turkey the seven thousand molecules currently in research and development," he said.
In his speech, Güven Sak said it is time to pick technologies, and not industries, and the pharmaceutical industry can transfer technologies to other areas also. The pharmaceutical industry offers opportunities for transfer and diffusion of biotechnology and can accelerate a technological leap, he said.
After the keynote speeches, TEPAV Innovation Studies Program Director Selin Arslanhan Memiş presented the "Pharmaceutical Manufacturing and Export Ecosystem Report." In her presentation, Ms. Memiş emphasized that technological transformation should be the top component of Turkey's new growth strategy, and that industrial policies around the world are now centered around new technology platforms. It is necessary to select a sector for accelerating the technological transformation process, and the pharmaceutical industry is the best candidate for this, she said. Ms. Memiş also noted that the best way to show Turkey is suitable for investments would be to announce a few foreign investment decisions involving advanced technologies, and said pharmaceutical industry is not a singular sector, and rather it should be viewed as an accelerating industry.
The Pharmaceuticals Manufacturing and Export Ecosystem Report addresses manufacturing and export issues and plots a roadmap for the Turkish economy.
After the press meeting, focus meetings were held, including "What kind of an investment landscape would be needed to attract investments involving advanced technologies?" and "What kind of incentive mechanisms can be devised for investments involving advanced technologies?," to analyze the report contents in workshops.
The Pharmaceutical Manufacturing and Export Ecosystem Report, prepared by TEPAV with support from the AIFD, complements the Pharmaceutical R&D Ecosystem Roadmap Report, published in 2015. The Turkish economy needs a new strategy for growth and sustainable development to maintain the momentum of the economic transformation taking place over the past three decades. A key component of this strategy should be the speed up a technological leap. In line with the global trends, the pharmaceutical industry has a critical role in achieving high-technology manufacturing and export growth, which is a major factor for the structural transformation that Turkey needs to avoid the 'middle income trap.' The pharmaceutical industry has the attributes for accelerating the technological leap, by both its potential for advanced technological manufacturing and export growth, and opportunities for the transfer of biotechnology and its diffusion to other industries. The main goal of this report is to analyze the global trends in transitioning to advanced technology and deliver solid proposals that facilitate the realization of actions  described in public programs, in particular the 10th Development Plan. This study offers a roadmap for achieving a globally competitive structure for the pharmaceutical industry manufacturing and export ecosystem, based on the shared goals of public policy papers.