Innovative health approach discussed on Horizon Europe Info Day
23.03.2022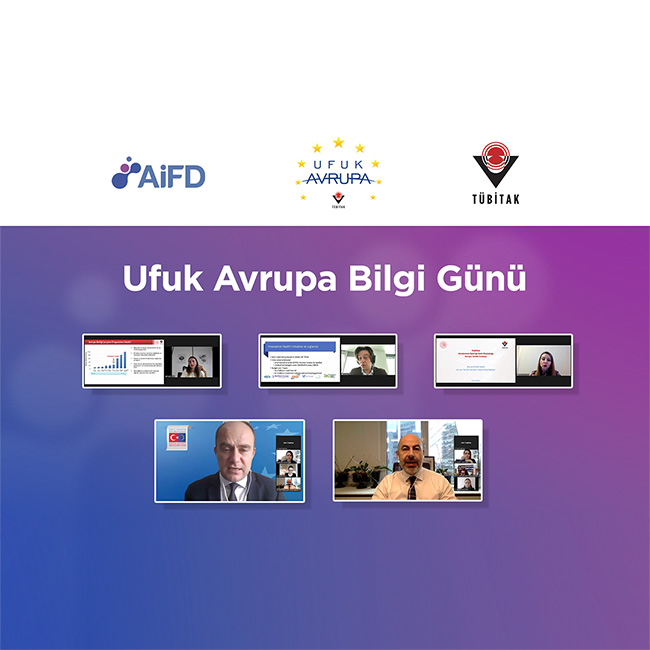 "Horizon Europe Info Day", organized with the AIFD and the Scientific and Technological Research Council of Turkey (TÜBİTAK), was held online on Wednesday, March 2nd. The Innovative Health Initiative was put on the agenda upon calls of the EU Research and Innovation Program Horizon Europe, the Health Cluster and the European Innovation Council at the event, which was attended by participants from TÜBİTAK and the European Federation of Pharmaceutical Industries and Associations (EFPIA) and which discussed the Innovative Health Initiative (IHI).
"Horizon Europe Info Day", held with the cooperation of AIFD and the Scientific and Technological Research Council of Turkey (TÜBİTAK) online, started at 2:00 p.m. on Wednesday, March 2nd. Handling several R&D and innovation-based issues on health and life sciences as part of the Horizon Europe Program, Horizon Europe Info Day was participated by AIFD members along with small- and medium-sized enterprises, health and life sciences researchers and stakeholders who wish to cooperate with these industries. AIFD Secretary-General Dr. Ümit Dereli delivered an opening speech during the event.
"We place great importance on R&D and innovation, the critical link in the pharmaceutical value chain"
Delivering an opening speech at the Horizon Europe Info Day event, held to promote EU Research and Innovation Program Horizon Europe, to provide detailed information about calls of the Health Cluster and European Innovation Council (EIC) and to promote the Innovative Health Initiative, AIFD Secretary-General Dr. Ümit Dereli said: "The Horizon Europe Program, which is one of the highest-budgeted R&D and innovation programs of the world, will facilitate access to sources of fund for many stakeholders, especially our universities, researchers, start-ups and industrial organizations, as well as provide opportunities to obtain timely information about Europe's R&D and innovation vision and to conduct joint research on innovative technologies in the coming period." He continued his remarks by giving information about AIFD's efforts: "As AIFD, we attach great importance to R&D and innovation, the most important link in the pharmaceutical value chain, to advance the society's health level further and to reinforce Turkish pharmaceutical industry's competitive power. Acting with the principle of enhancing patients' access to innovative products and to bring solutions to unmet needs in healthcare, AIFD has been taking important steps to take inventiveness to higher levels and to make progress in all stages of the pharmaceutical value chain, particularly clinical studies."
"Turkey's full membership to the EU one of top strategic objectives of our Republican history"
Attending the Horizon Europe Info Day as a speaker, Bülent Özcan, the Director-General for Financial Cooperation and Project Implementation at the Directorate for EU Affairs of the Ministry of Foreign Affairs, said: "Despite all ups and downs, Turkey's full membership to the European Union continues to be one of the most important strategic objectives of our Republican history. At a time when we lost acceleration of our negotiation process, the most functional axis of our relations with the European Union is the financial cooperation and unity programs between Turkey and the European Union. The EU programs will serve as a key to help us adopt to changes required by the transformation to green economy and the digital transformation in the globalizing world and fight with challenges such as the COVID-19 pandemic. The Horizon Europe Program is the world's largest civilian R&D and innovative tool, which was developed to help the EU compete with global actors such as the USA, China, the Republic of Korea and Japan on the global level by increasing the share of EU's R&D expenditures in GDP to 3%."
Stating that more emphasis should be laid on the protection of nature and ecological-based innovative activities, Özcan said: "We should strengthen our industry by making use of digitalization and rising new technologies. In order to achieve this, we should create an industry ecosystem to ensure that the academic world, our research institutions, small- and medium-size enterprises and large companies work together. This is what the Horizon Europe Program supports. First of all, the program enables stakeholders in our country to work with their counterparts in the European Union, ensuring that basic knowledge and technologies are brought to our country."
"With TÜBİTAK's support, we encourage the pharmaceutical industry to make more applications to Horizon Europe calls, and to take more active role in projects"
Attending the event as a speaker, TÜBİTAK Horizon Europe Program National Contact Point Coordinator Serhat Melik commented on the program's journey of growth: "European Union's Framework Programs, which were launched in 1984, are the ones that aim to strengthen EU's research and technology capacity, encourage university-industry cooperation and improve cooperation between EU member countries and candidate and other countries. We have successfully completed the Horizon 2020 Program with the momentum we have achieved in the past few years, and we want to carry this achievement to the Horizon Europe Program as well. With this info day organized in cooperation with AIFD, we hope to encourage the pharmaceutical industry and relevant stakeholders to increase the number of their applications with regards to calls by Horizon Europe and to take a more active and influential role in the projects". Drawing attention to the importance of cooperation, he said: "As TÜBİTAK, in line with the road maps of the Ministry of Industry and Technology, we have been activating capacity enhancement and competitiveness in the health industry with output-oriented co-development approaches, and promoting a domestic, innovative and green R&D and production climate with various interfaces. In this regard, we hope to maintain our cooperation with AIFD and its stakeholders, and to develop output-oriented innovative projects."
Cooperation offered to address health-oriented social problems
Health Cluster National Contact Point Özge Gözay provided general information about Horizon Europe Program and application requirements as part of the event, presenting 2022 calls by the Health Cluster and the EU Cancer Mission. Referring to several opportunities for health and life sciences studies in the Horizon Europe Program in her presentation, Gözay stated that multi-partnered, transnational and large-scale cooperation is targeted against complex problems. She indicated that the Innovative Health Initiative (IHI), a public-private partnership, also provides pre-competition research and innovation support in line with these objectives with the cooperation of pharmaceutical, biotechnology and medical device industry and the European Commission.
In her presentation entitled "European Innovation Council Program," European Innovation Council National Contact Point Merve Diyar Kaya outlined Pathfinder, Transition and Accelerator programs within the scope of European Innovation Council, providing information about calls on strategic priority areas launched in these programs, especially on health.
The last presentation at the event was delivered by Nicolas Creff, Science Policy and Regulatory Affairs Senior Manager at European Federation of Pharmaceutical Industries and Associations (EFPIA). Delivering a presentation entitled "Innovative Health Initiative (IHI): Building on Achievements of Innovative Medicines Initiative Public-Private Partnership," Creff stated that the focal point should be on "inter-sectoral approaches that prevent, stop, diagnose and treat-manage diseases and facilitate the creation of new products and services to promote improvement more efficiently." He added that they aim at working to develop safer and more effective healthcare products or solutions that meet unmet public health needs and can be implemented in healthcare systems. Stating that IHI Public-Private Sector cooperation calls will be opened in June, Creff said that info day and networking activities will be organized with regards to these events, adding that they would be pleased to see participation from Turkey.